I've always had a funny feeling about the way that we collect tithes and offerings at church. What happens in most churches (of all denominations that I've attended), is that there is a part of the service where the elder or the pastor gets up and has a short appeal about donating to the local church. They may read Micah 3:10, or some other inspirational story, and then ask for several deacons to stand while they pray for the money to be collected. Then, the organist/pianist plays some music while the deacon team passes plates around the congregation, and then take the money to a back room to be counted. Once the counting is done, the treasurer (or a delegate) takes the money to a local bank to deposit it (usually Monday, since banks aren't open on the weekend). This is more or less the system in other denominations as well.
There are several problems with this method of collecting tithes and offerings:
It puts an uncomfortable amount of pressure on visitors to give. There's a certain fear that they will be judged if they don't put anything into the plate when it comes by, and it makes them uncomfortable. There's also likely a chance of misunderstanding that giving is compulsory in order to attend that church.
It puts an uncomfortable amount of pressure on regular attendees to give. Most people are not paid weekly, but we take up an offering weekly, and so in the weeks where members don't receive a paycheck, they pass the plate, and still wrestle with some of the social stigma of possibly being perceived as not giving. There are many Adventists that drop empty tithe envelops into the offering plate to avoid shame of their pewmates.
Fewer people carry cash or checkbooks with them anymore. If they haven't brought these instruments to church, then this is a part of the service that they cannot participate in.
It can derail momentum during your worship service. There's a certain trajectory that a service takes, starting in a call to worship, an opening prayer, scripture reading, etc.... to many, the time during which the offering is taken can be a little distracting (e.g., have to put down a Bible and pick up a checkbook)
It waters down the duties of your deacon team. The role of a deacon should be to visit the members who need one-on-one mentoring or support, but because the most visible thing that most deacons do is pick up offering, lay-people often think that deacons are just there to pick up envelops and other forms during the service. Furthermore, for churches with a junior-deacon program, we often think that we are developing our young people by having them collect money. There's really nothing spiritually formative about passing a plate around, and we should be more intentional about training our youth (e.g., singing at nursing homes, volunteering at soup kitchens)
By having a short exhortation to encourage people to give, some members get into the habit of "reactionary giving" where they only give if someone in the front asks them to give. They do not develop the stewardship habit to proactively plan ahead of time what they will give.
Over time, this can become a pro-forma tradition that has no spiritual meaning, but we make it a sacred cow. Case in point: up until the end of 2016, the AdventistGiving PDF confirmation receipts they emailed you after each donation included a cut-out sheet that you could "submit as part of your worship experience." For many, they felt more religious if they could drop off a receipt in the offering plate, even though the donation had already happened earlier in the week.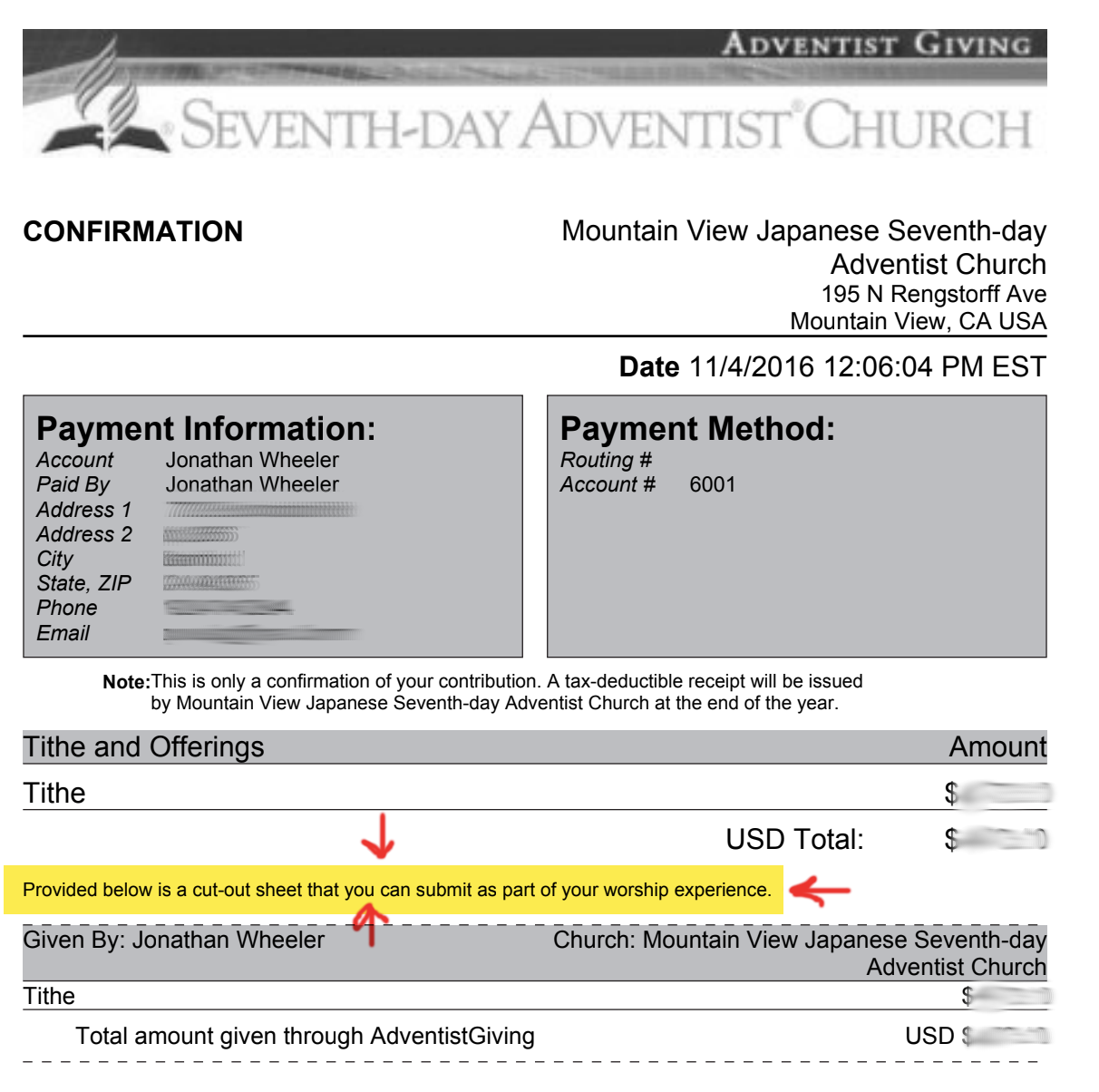 Most Adventists don't have a theological objection to giving tithe. A 2018 Compass Magazine article summarized the findings of a 2016 study on tithing in Adventist churches in Australia. In it, they found the largest reason why Adventists don't contribute to their church is because they forget. It's no wonder then that we include weekly reminders in our church services to try to increase tithe/offering revenue. However, by having a part of the service where we make an offering call and worshippers "respond" by giving their tithes and offerings makes systematic benevolence a reactive discipline, and not a proactive discipline. Our goal shouldn't be to have a really great offering call that encourages people to give more every week, it's to help build healthy spiritual habits so that members set aside what the Holy Spirit lays on their hearts whenever they earn a paycheck. Ellen White summed it up in a discourse about an Ohio Campmeeting:
I saw that the cause of God is not to be carried forward by pressed offerings. God does not accept such offerings. This matter is to be left wholly to the people. They are not to bring a yearly gift merely, but should also freely present a weekly and monthly offering before the Lord. This work is left to the people, for it is to be to them a weekly, monthly, living test. This tithing system, I saw, would develop character, and manifest the true state of the heart. If the brethren in Ohio have this matter presented before them in its true bearing, and are left to decide for themselves, they will see wisdom and order in the tithing system. Testimonies to the Church, vol 1, pp. 237
In scripture, the models that we see for collecting offerings are very different from this modern model of passing around an offering plate. In 2 Kings 12:9, Jehoida the priest took a chest and bored a hole in the lid, and set it in the church foyer. Worshippers dropped their tithe envelops into the donation box as they entered the sanctuary. This was still the way things were done hundreds of years later in Jesus' time. A "treasury" would be situated in the sanctuary, which contained 13 diffent chests that people would put their offerings into. The 13 chests were thirteen different categories that people donated to, ranging from funds to purchase wood to keep the altar burning, to gold to cover the covering of the ark, to sin offerings and offerings for ritual uncleanness. It was into one of these chests that the widow cast her two mites in, and Jesus commented that she had deposited more than all of the other wealthy donors (Mark 12:41-44 and Luke 21:1-4).
Paul, in 1 Corinthians 16:1-2 wanted to avoid having to do offering calls when he arrived in Corinth, so he encouraged everyone to sit down on Sunday at their own home (not at church), and discuss with their families how much money they wanted to donate towards their needy-fund campaign for the brethren at Jerusalem. Then, whenever Paul came, everyone would just drop off the amounts they had already set aside for this purpose, without any pomp and circumstance. They would likely just give their money directly to Paul (Acts 4:37).
Ellen White had a lot to say on the regular elements of a church service. She wrote a lot about music in church, prayer in church, sermons in church, other church ordinances, but I have not found any reference to how Ellen White though offering should happen in church. However, I did find something that her husband, James White, published in the Review and Herald about how tithes and offerings were collected in their church in Battle Creek–in fact, the tithes and offerings were not collected in church at all, but the treasurer would make monthly rounds to pick up the members' pledges.
On the first first-day of each month our treasurer passes around with his hand-trunk, to wait upon all who have their names, with the amount of their weekly donation, on his book. All expect him, and all get ready for him, and meet him with open hands and benevolent feelings, and in a few hours he collects about twenty-five dollars. No one feels poorer, but all feel happier after casting their small sums into the treasury. James White, Review and Herald, October 15, 1861
With all this said, it's my opinion that as churches are opening back up again after COVID, and we are re-imagining what our socially distant services look like, this is a great opportunity to redefine how certain part of our services are performed. In place of taking up an offering in the middle of our service, we can place a bin with a slot in it to take up the tithes and offerings. A label can be put on it for whatever the loose offering is going to that week (e.g., local church budget, Christian education, another ministry in the NAD offering schedule). If necessary, multiple bins can be used and members can select which category they want their loose offerings to be applied to (e.g., in place of holding separate offering during Sabbath school, make a bin for the Sabbath school offering, or if there is a special concert, a bin for the love offering to offset the performer's expenses). Worshippers can drop off their donations either before or after the ceremony. Next to the bins, a QR code can be put on a large laminated sheet of paper that directs members to their church's online-giving portal for members who prefer to donate online.
I also once saw one of those spiral-wishing-well coin drops at the Loma Linda University Church. I immediately thought of 2 Corinthians 9:7, and thought of how much fun for our childrens divisions it would be for kids to bring loose change and drop it into a well designed coin drop, a special Sabbath treat after saving up nickels and dimes all week.
Some may object to my proposal to remove the collection from the worship ceremony, arguing that giving is a form of worship (Deuteronomy 15:10, 16:17, Proverbs 21:26, 3:27, 11:24-25, 22:9, 28:27, 1 Chronicles 29:9, Malachi 3:10, Matthew 6:3-4, Luke 3:11, 6:30, John 3:16, Acts 20:35, Romans 12:8, James 2:15-16, 2 Corinthians 9:6-8,10). I fully agree that it is a form of worship, but not all worship has to happen between the hours of 10:30 and 12:00 am on Sabbath morning. James 1:27 says that true religion is visiting widows and orphans in their distress. Just because it's an act of worship doesn't mean it has to happen between call to worship and the benediction.